Further
learning materials
Learn German with vitamin de 
 "vitamin de"  is a great magazine for everybody who wants to learn German with the help of very interesting texts. 
It is a journal for young learners of German, language teachers and all German fans worldwide.
It offers reading texts, audios and materials on current topics: Youth, regional studies, school, studies, society, culture, trends and architecture in Germany. 
It is published four times a year as a printed edition. 
It is suitable from level A2 / B1.
It´s also very good value for money!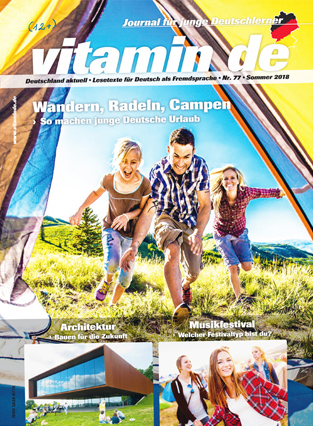 Go to free links to learn German
Texte, Audios, Videos
Deutsche Welle
NEW:
Deutsche Welle – Ticket nach Berlin
Goethe Institut
Podcasts
A1 – C1
A2-B1
B1 – C1
B2-C2
Exercises online 
A1 – A2
A1 – B1
Hueber Schritte International 
A1 – B2
Levrai Online
A1 – C2
Michael Möbius exercises online  
Institut für Interkulturelle Kommunikation e.V.
B1 – C1